not to be mean
But what is up with selling Nina Bangs in trade?

I admit I have read little by her. The Pleasure Master, An Original Sin and the novella in Men at Work.

I don't care for her writing at all. It seems campy to the extreme and I am never sure if it is suppose to come across as over the top or if I just don't 'get her'.

Which is cool either way... but seems like an odd choice to put into Tradesize at 14 bucks a pop. Then again MJD is in trade, another odd choice when you factor in how short her books normally are, it seems that she would be better in MM.

So does this point to the fact that people think Tradesize=bigger sales? And has anyone done the math to see if it is MORE sells or less sells at a higher fucking price? Uh not that I am bitter or anything... really.

Ok just a touch.

It seems to me if MM sales are down, maybe, just maybe people should look into the fact that a person can't buy the same
amount of books now as they could two years ago. Or even six months ago.

The more books that change from MM to Trade or even ::shudder:: hardcover the less new books the general reader can buy. And blaming used book sales seems silly. If the choice is one book vs two (or even three or four) used books at the same price, I think it is easy to see what the avid reader is going to do.

Even if we would rather 'support' our favorite authors by buying new.

And I still wonder what this mean for the erotic romance market.

I would love to know zebra's numbers with new authors debuting at that lurvy discount price. I admit I have purchased more than a few new authors from zebra because they were historicals and such a great price I could take a chance on hating it.

Add in the fact that I could count my one little sell toward that 'new historical authors' numbers and I was there. I admit I try to buy at least one new HH a month (when I could I bought two or three even if I didn't really WANT it) because the line was (is?) in trouble.

LOL the line may ALWAYS be in trouble just to keep people like me buying new *g*.


Where as I see a new author at a trade price and my first thought is - wait. Wait for reviews. Wait for used. Wait for... something.

I thought it was tre cool that Shiloh Walker's first Berkley book was MM. Here is a great writer with a large e backlist. If trends were followed I could see her coming out as Trade but in theory I see more people buying it as a MM.


But does that hold in practice as well as in theory?

Mary Balogh next book is in hardback - hate hate hate that - the cool thing is it is being released in e at the same time.

But fuck me, it is still $17. You can buy it at amazon for 14. Spend 25 you get the shipping free, so you get two books (three if you buy two nifty zebra books - What a Gentleman Wants is $4.99 - just saying). So why the hell buy the ebook?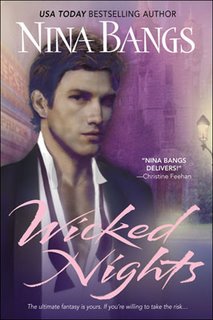 You know this started out just asking why the heck Nina Bangs is being sold in tradesize.

From her last review at The Paperback Reader. Her writing style is the same.

There any big nina bangs fans out there?

What do you lurve about her writing and how do you feel about the change from MM to Trade?

If nothing else her covers have gotten better.